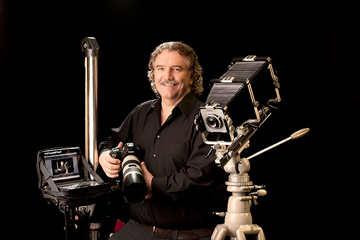 Oftentimes the difference between a run-of-the-mill snapshot and an inspired work of photographic art is a matter of a fraction of a second in the timing of the press of the release of the shutter, or a few inches in the placement of the camera. The art is in the details. Almost anyone can take a picture with a modern digital camera, but very, very few can produce a work of art. Van is one of the best of those few.
They say that a poor workman blames his tools. This is true, because a good workman always has the proper tools for the job. Van's uses top quality equipment. The studio houses over $100,000.00 in cameras and related gear, so we always have what we need to get the best photographs for you. If you're planning a wedding or other event, we can have multiple cameras and multiple photographers at your event with plenty of gear for backup. We can shoot a work of art at high resolution and bit depth with our tethered Hasselblad. We can produce full 360° panoramas with our panorama rig. You might be tempted to hire a casual photographer or part-timer, but they cannot bring to bear the arsenal of equipment that we have at our disposal.
Van is an absolute perfectionist when it comes to the production of the images he creates. Every image that leaves the studio is subject to the most meticulous and detailed production techniques that can be brought to bear using all the latest technology and software.